Cozy Vent is a Patent Pending Pet Product designed for the comfort of both the owner and the pet.
Your pet can now enjoy the warmth of that floor register without hurting their paws, and also benefit from the enlarged surface area, and their Cozy Blanket.
You benefit, because the air intended for your room, still gets into your room through our patented design.
TO USE
Simply place the pre-assembled COZY VENT over your existing floor register.  (gif activates when you press on the picture below)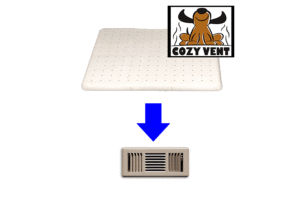 Q & A
WHAT TYPES OF FLOORS CAN IT BE USED ON?
It works on all floor types:  Hardwood, Tile, Carpet, Vinyl, Laminate, Concrete.
DO YOU HAVE TO PUT IT TOGETHER?
No.  It comes ready-to-use right out of the box.
DO I HAVE TO REMOVE MY EXISTING FLOOR VENT REGISTER?
No.  You simply place the Cozy Vent over that area.  The Cozy Vent has non-marking rubber feet that elevate it over your existing vent cover.
CAN MY LARGE DOG USE A COZY VENT?
Yes. Yes. Yes.  We, specifically, designed the Cozy Vent with large dogs in mind.  This is why our edges are rounded and angled, and why the entire unit is a low profile to the floor.  Large dogs will have a great benefit of a larger area of air getting to them for their larger bodies.  All this can happen, while your room still gets air for you.  This is the whole point of the Cozy Vent.  Pets are comfy, without blocking the air.
DOES IT COME WITH THE BLANKET?
Yes.  Every Cozy Vent comes with one COZY BLANKET
IS THE BLANKET WASHABLE?
Yes.  All Cozy Blankets are machine washer and dryer friendly for your convenience.
HOW DOES THE BLANKET STAY PUT?
We have designed a super simple way for the blanket to stay in place while your pet uses their Cozy Vent.  It wraps around the top surface and has holes in the blanket that slip over a connector on the bottom of the Cozy Vent.  No extra hardware needed, and no buttons or chewable safety hazards for your pet.
ARE EXTRA BLANKETS AVAILABLE?
Yes.  You can purchase additional Cozy Blankets.  We even plan to have color options and holiday specific blankets, just for fun.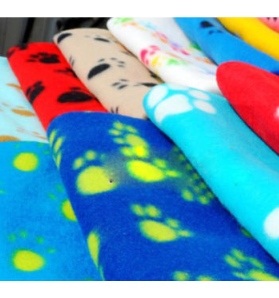 WHAT COLOR IS THE COZY VENT?
Our inaugural color is a neutral bone/light tan color.  This color will ensure that your Cozy Vent wears well, and matches any decor, and any Cozy Blanket you purchase.  In the future, color options may be available from retailers, depending on their order preferences (color gif activates when you press on the photo)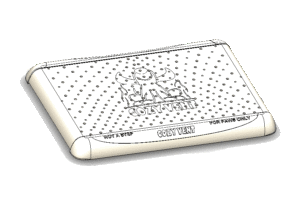 WHEN CAN I BUY A COZY VENT?
Right Now!!!  We are launching this new product now.
WHERE CAN I GET ONE?
Throughout our launch year, you will see Cozy Vent available in more an more locations (e-tail and retail).  Amazon is a good place to start to see where it may pop up.
Our own MillwaterStore.com site will have Cozy Vents and accessories available soon.
You may see Cozy Vent on Amazon.  If you don't see it there, it is because we are talking with national retailers about carrying Cozy Vent in their stores.
https://www.amazon.com/s?ie=UTF8&me=A2M7W41ID9ZPOP&page=1
We are at the GLOBAL PET EXPO in Orlando RIGHT NOW!  BOOTH 5680
HOW DOES IT WORK?
Our Patented design directs air under and across the Cozy Vent platform in such a way that some of the air is utilized for your pet's comfort on the vent, while the rest is redirected to your room, so that you are comfy too.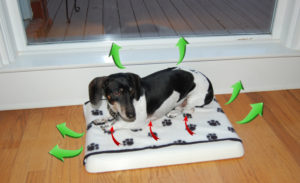 IS IT STRONG?
Yes.  The Cozy Vent was designed to take up to 250 pounds of weight.  So, while it is not designed for humans, if you happen to step on it, it will be ok.
THE FUTURE OF COZY VENT
THE COZY CLUBHOUSE?
The renderings you see of the Cozy Clubhouse is our future plans for an add-on unit to your existing Cozy Vent.  The Cozy Clubhouse will set right over the top of your current Cozy Vent, so that smaller dogs and all cats can enjoy a cave-like setting to feel cozy and secure in their own space.  Cats will LOVE the top of the Cozy Clubhouse for a higher perched view. (press on the picture below to see it activate)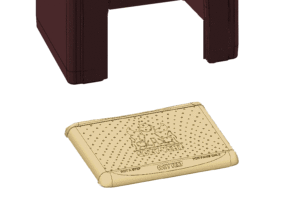 WIFI – See your pet from afar
Your Cozy Vent will soon be able to be upgraded to become interactive.  We are designing an add on device that goes into and secures in the rectangular area you see on the bottom side of your Cozy Vent.
This WIFI unit will allow you to see your pet on your SMART PHONE.  It will tie into your existing wifi at your home and any wifi camera, to send a signal to you when your pet gets onto the Cozy Vent.  A live picture feed will be available for you to SEE your pet from afar.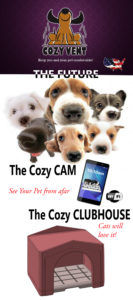 CAT TOYS
Cozy Toys will have various cat toys and accessories that can be utilized and attached to your Cozy Vent….for extra fun!
REPLACEMENT BLANKETS
Every Cozy Vent comes with a fitted Cozy Blanket.  New colors, styles, and even pillows are coming soon.